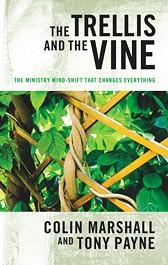 In 2009, Matthias Media published a book called The Trellis and the Vine. It was a book about what ministry is, and why so many churches have become stuck in a ministry rut. It was intensely popular and garnered praise like:
This is the best book I've read on the nature of church ministry. Mark Dever
WORKSHOPS AROUND THE WORLD
The Trellis and the Vine struck a chord with many church pastors and leaders who saw that something drastic was needed to get churches going again: getting to the heart of the gospel, and the Great Commission.
Overwhelmingly, pastors and leaders said to us that they loved The Trellis and the Vine, but what's next?
Colin Marshall, co-author of The Trellis and the Vine, set up Vinegrowers as a way to answer this question:
How do we rebuild our churches and ministries into cultures where disciple-making affects everything?
Since 2009, Col has met with hundreds of pastors and church leaders all over the world in order to coach them through the culture change process in a way that is biblical, practical, and effective.
THE VINE PROJECT
The Vine Project is what has emerged from that training and coaching experience.
It brings together the theological vision of The Trellis and the Vine, the answers to the questions that pastors have asked, and Col's forty years of ministry expertise.
The Vine Project is a theologically driven approach to leading culture change. It's not a superficial fix or a new program, but a robust process that aims for lasting and true change. Find out more.